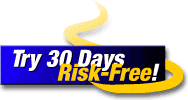 7.1 From Policies & Procedures:Product Return: :
Lifewave offers a 30-day money-back product satisfaction guarantee (less shipping charges fees) to all Customers and Associates. If for any reason a Customer or Associate is dissatisfied with any Lifewave product, he or she may return the un-used portion of the product to Lifewave for a full refund (less shipping charges) within 30 days of the date of purchase. Following the 30 day period, returned items must be in Resalable condition and will be subject to an additional 10% restocking fee. This product satisfaction guarantee applies only to Lifewave products and does not apply to starter kits or sallies aids purchased by Associates. Those items are not returnable except as provided in Section 7.3 below All information must be correct to receive above offer we reserve right to substitute offer with Intro Pac.
These statements have not been evaluated by the FDA.This product is not intended to diagnose, treat, cure, or prevent any disease.